ALEXANDER THE GREAT
Rocks The World

About the book: A kid-friendly, humorous, and fact-filled biography of the young man who conquered the known ancient world and transformed the world as he went.
VOYA (Voice of Youth Advocates) placed it on its "Honor List" for midgrade nonfiction. School Library Journal said, "that the book's comic tone will undoubtedly be a draw and perhaps lead students otherwise interested only in the present to take a look into the past." Booklist said, "Shecter manages to impart the familiar information about Alexander while mixing in some lesser-known facts…kids will like the approach."
VOYA Honor List for Nonfiction
Junior Library Guild Premier Selection
Named one of the "25 Books by Georgia Authors All Kids Should Read" By the Georgia Center for the Book.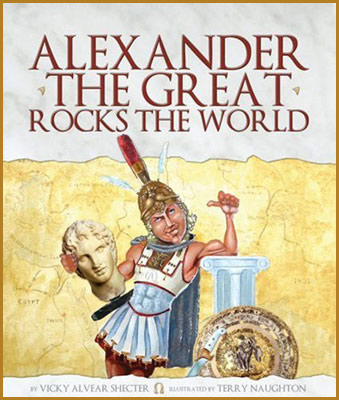 INTRODUCTION
The Making of a Super Man
At 16, Alexander of Macedon's father left town on business and put him in charge. Not of the house—the whole country. See, Alexander's dad was king of a powerful city in ancient Greece.
Ruler for a month? The opportunities must have boggled young Alexander's mind. Should he ban schoolwork? Race chariots through the palace halls? Create new laws just for fun? Nah. Alexander wanted something bigger. And he got it when a barbarian tribe attacked the borders of his kingdom. Like Superboy trying on his costume for the first time, Alexander flew into action, ordering his father's men to follow him into battle.
Here's the weird part: they did.
Hordes of grizzled, bearded war veterans streamed into formation behind their baby-faced leader. Yet he was just a kid. They could've said, "Look, we'll start following after you start shaving." But they didn't. Even at that age, Alexander's leadership powers dazzled the burly men. Without question, they backed him up as he routed the invaders, conquered their city and renamed it after himself. The kid had nerve on and off the field.
Alexander's first victory marked the beginning of his meteoric rise to greatness. Two years later, he led the army as a general. By 20 he ruled over all of ancient Greece and by 25 he conquered most of ancient Persia (today's Middle East). In 13 years of fighting, he never lost a single battle.
By the time he died at 32, Alexander ruled as king in today's Greece, Turkey, Syria, Lebanon, Israel, Egypt, Libya, Iraq, Iran, Kuwait, Afghanistan, Pakistan, Uzbekistan, Turkmenistan and the Balkans.
He was King of the World.
More importantly, Alexander unified his kingdom with a common language, a common currency, and an uncommon respect for diversity. Ancient conquerors often forced their subjects to give up their religion and customs. Not Alexander. He respected other cultural traditions and brought leaders of all religious faiths into his inner circle. His notions of multi-cultural respect were 2,400 years ahead of their time. And the results were amazing. By mixing the best of Greek and Middle Eastern cultures, Alexander ushered in one of the most exciting and creative periods in ancient history. Historians call it the "Hellenistic" era.
Yet one of Alexander's greatest ironies is that he tried to achieve worldwide peace and brotherhood through warfare and bloodshed.
What drove Alexander to conquer the world? And where did he get his new-fangled ideas of religious tolerance and respect for cultural diversity? We may never know, but that hasn't stopped us from wondering.
So come meet the kid who rocked the world and, for a brief time, ruled the planet. If, by the end, you don't agree Alexander deserved the nickname "the Great," you'll have to admit "the Amazing" works pretty good too.