I love being a docent at the Michael C. Carlos Museum at Emory University. Introducing kids to the world of ancient history is a great joy. Sometimes, being at the museum combines more than one awesome thing. Today was that kind of day.
First I gave a tour to a bunch of wonderful sixth-grade boys. They and their schoolmates from two different schools had climbed onto a bus at the crack of dawn and traveled two hours from Augusta to visit us. We docents gave them tours of the African Cosmos show, as well as key pieces from the ancient Egyptian galleries. After that, they went to the planetarium for a show on the constellations discussed in the Cosmos exhibit.
Meanwhile, I went upstairs to write in a quiet space, overlooked by a Caryatid, a replica of one of the six female statues that served as pillars/columns on the porch of the Acropolis (the artifacts on the third and bottom floors of the museum are replicas, while everything in the galleries are the "real thing"). Her severe stare kept me writing even though I didn't have my computer and was forced to write long-hand (the horror).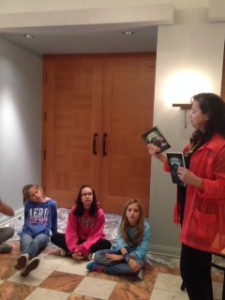 Then there was the visit to the Museum Bookstore. Every time I go near the place, I SWEAR that this time, I'm not going to buy any books, but I inevitably cave. They always have the most interesting selections about the ancient world and ancient art. Plus, they sell my books! (I walked out with three new reads.)
After the kids went to the Emory cafeteria for lunch, it was time for another tour, this time of the Greek and Roman galleries. But first, the school requested a brief visit with me. Turns out many of the students had read Anubis Speaks and Hades Speaks and wanted to meet me. I answered questions about the books and about why I always write about myths and the ancient world.
I told 'em:  "Look, to impress your teachers and parents, I could go ahead and speechify about how ancient cultures provided the backbone of our civilization, blah, blah, blah. But the real answer? Because this stuff is CRAZY weird, funny, and sometimes gross and I find it all irresistible."
Then I gave them copies of the Advanced Reading Copies (ARCs) of Thor Speaks  (releases September 2015), which I had just received. I reminded them that these were uncorrected proofs and that the latest round of revisions weren't reflected in the ARC (which makes me crazy), but I wanted to give them something. Then we were off to the Greek and Roman galleries. The boys were bright and eager and seemed to enjoy my stories.
The museum, writing, storytelling, and book signings all in one place. What an awesome day!