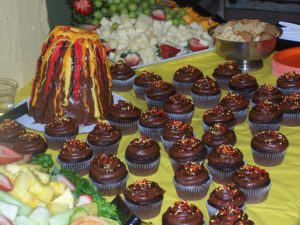 I promised everyone a smoking volcano cake at my launch party for Curses and Smoke: A Novel of Pompeii and I didn't lie. It smoked. I swear! For about ten seconds. Then we discovered that the water we were pouring into the container with the dry ice was dripping inside the cake. Of course, the only proper response to that sort of emergency was to shout, THAT MUST NOT BE ALLOWED TO HAPPEN! Soggy cake?
Gods no.
Still, it was a very cool cake with fabulous cupcakes thanks to Carolyn's Cupcakes in Decatur. A huge thank you, of course, goes to Little Shop of Stories, my most favorite indie bookstore evah, for hosting the party last Friday night.
It was wonderful to see friends, family and readers come out in support of the book. I signed a book for one teen girl with awesome flowing locks of red, orange and yellow hair. "I wanted to color my hair that way and call it 'volcano hair,'" I confessed. Her friend with the lilac hair thought I should have.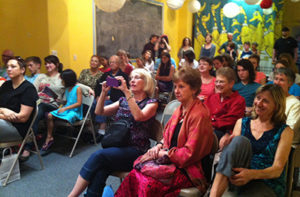 I gave a brief presentation on Pompeii and on the novel. Some of my fellow docents from the Carlos Museum were there, which made it even more fun because I knew my museum peeps would ask a lot of good questions and they did.
Two things in particular made this night extra special. First, my lovely daughter Aliya made a crown of roses–just like the model wears on the cover–for me. How thoughtful and cool is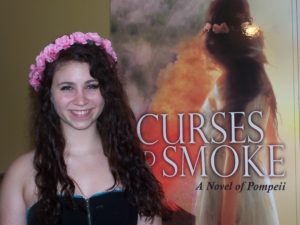 that? My handsome son was also at the party but I am not allowed to post pictures or talk about him online because that's just how he rolls.
Second, I got to see two special friends–Ashley Parsons, who drove in from Alabama, and Kara Levy Beitz, who was moving to Texas the NEXT DAY but still made time to come to my launch party. Such awesome friends and brilliant writers.
Finally, my hubs Bruce made sure everything was all set for the party, especially the volcano cake. When we decided to stop adding water for the smoke (because the yums must not be sacrificed), he made sure to get the cake home in one piece and then stuffed the center with candles which he then set ablaze for me.
So for one brief, shining moment, I had a volcano cake on fire! And then a smoking volcano cake when we blew it out! It was the perfect cap to a perfect night.
And now, Curses and Smoke has officially blown its top and erupted into the world. Thanks everyone for your support–I lava ya for it!