It was SUCH an honor to present a workshop at the Auburn Writer's Conference this past weekend. The founder of the conference, Chantel Acevedo, and her team put on one powerful event!
Thursday morning, thanks to conference organizers, I spoke to the entire 8th grade class at Beulah High School. They'd provided a copy of Curses and Smoke: A Novel of Pompeii to every single 8th grader. Every single student!
During my presentation, I showed students a clip of a real pyroclastic surge (what killed everyone in Pompeii) and then talked about some of my influences, including the plaster casts of the poor souls who were insta-fried in the disaster.
I shouldn't have been surprised (yet somehow I was) when the crowd went NUTS at a photo of whom I pictured as Tag.
Seriously, I almost lost control of the room! They seemed to like the shot of whom I pictured as Lucia as well. 😉 Oh, hormones.
Anyway, the kids asked great questions. Several kids asked why I ended it the way I did and I always began my answer with, "Because you weren't expecting it."
Which was true. But I also wanted to explore the awesome weirdness of curse tablets and the way that they could unconsciously become self-fulfilling prophecies. Afterwards, I met with the reading club where I was hosted to an "Inside the Actors Studio"-type interview.  It was creative and fun. Afterward, one student asked for a picture taken with me. I heard him tell a friend, "I did that in case she ever becomes famous."  Ha! Love it!
After school, we feasted on delicious brownies baked by English and Language Arts teacher extraordinaire, Stacey Guyton. She and her students made me feel so welcome!
During our choc-fest, 8th grade, fellow English and Language Arts teacher Lucinda McGinnis showed me the binder she had created for teaching Curses and Smoke. I was gobsmacked! I was deeply impressed with the variety of lesson plans, tests, and projects she'd come up with. Lucinda and Stacey also told me that they're encouraging other classes across the curriculum to integrate what they've learned about history, volcanoes, and mythology from the book. How cool is that?
On Friday, I presented my workshop  on the importance of having both a hook AND a heart in a story. There are all kinds of 'hooky' stories but they are often instantly forgettable because they have no heart. I offered several techniques or questions I've used in the process of trying to get to the heart of a story (if you would like a copy of the handouts, let me know in the comments and I'll email them to you).
At the author's party, I also met a couple of fans of my midgrade mythology books. One was Jacob Jordan who,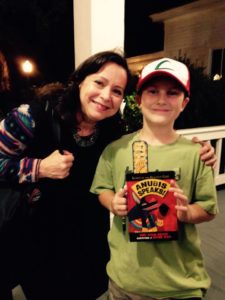 according to his mother Angela, was particularly excited to learn that I too wear an insulin pump because I am also a Type 1 diabetic. We talked briefly about our pumps and about mythology and had this photo snapped. It was a highlight for me!
Being a T1 diabetic adds an extra layer to planning for events. I always check my blood sugar before any  presentation, of course, but sometimes things go wonky anyway.
Moments before my workshop, I could feel my blood sugar drop and I knew I would not get through the hour-and-a-half workshop unless I treated it. I had glucose tablets with me (always!) but I didn't want to be chomping on them as I introduced myself. So I went to the awesome Maiben Beard for help and she quickly brought me a soda. Thank you, Maiben! I only needed a few sips to stabilize so all was well. It was nice to meet a kid like Jacob and (hopefully) show him that having T1 isn't a barrier to doing what you want in life.
It was also fun to see one of my close buds, Elizabeth O. Dulemba, at the conference. She also visited schools and presented at the conference. Check out her recap here.
The beauty of the Auburn Writer's Conference is that it doesn't just support regional writers–it also reaches out to schools that would not ordinarily have the opportunity to host an author at their school. And the powerhouse behind the conference is Chantel, a beautiful and powerful writer in her own right.
Writer friends are wonderful because they never hesitate to help with creative blocks. Both Chantel and Ash Parsons (her debut novel, Still Waters, comes out in April!) took some time during the conference to talk me through some plotting issues for my current project. Thanks, you guys!
And thank you, Auburn Writer's Conference, for a terrific event!