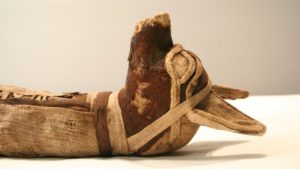 Animal mummification was big business in ancient Egypt. Often temples bred animals for the purposes of later killing and mummifying them. They sold these mummies as religious relics worshippers could purchase and offer to their patron god or goddess for protection.
It turns out, however, that mummy sellers often cheated their customers. Out of 800 animal mummies scanned in one museum, a full one-third had nothing but mud inside. Another third had bits and pieces of bone but nothing at all like the whole animal buyers thought they were purchasing.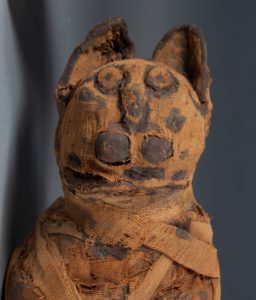 Apparently, there was no Better Business Bureau of the ancient world!
To the ancient Egyptians, animals represented the mystery and power of the gods. A mummified animal was also a reminder that in their afterworld, animals roamed freely as well, including your own beloved pets if you remembered to have them mummified.
The afterworld was a beautiful place of abundance where the deserving could live forever in their resurrected bodies, which was why preserving the body was so important. Of course, you needed to pass the "Weighing of the Heart" test first in the duat, but that's another story.
Animal mummy sellers sometimes set up booths in marketplaces for convenience. Just imagine–you could pick up some fresh Nile perch for dinner and a sweet falcon mummy to honor Horus all in one stop! Kind of like the ancient version of Wal-Mart–except without all the bad fashion.
Why did mummy sellers cheat their customers? Most likely because they couldn't keep up with the demand. But mostly, I imagine, the driving force was plain old human nature–greed, the impulse to take shortcuts and, sometimes, cheat. Anyone who has purchased something online and been disappointed knows that our essential cheating natures haven't changed much over the millennia.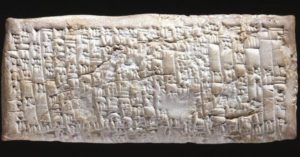 I utterly love those moments where we see our humanity–with all its silliness and propensity for wrongdoing–shining up at us through time.
In the same way, I love learning about early "customer service complaints" like this one from Babylonia.  Poor Nanni is royally pissed that he got a shipment of bad copper. He lets his supplier know in this long cuneiform complaint that fairly bristles with outrage.
He wants his money back, now! Also, he is taking his business elsewhere in the future. My favorite part is when he asks, "What do you take me for?"
The outrage is real.
Some thing never change!