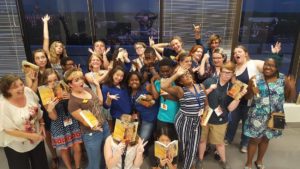 Thanks to Angela Jordan and Michelle Hopf of Auburn University, I was invited to speak with teens participating in the university's week-long writing camp. Each student received a copy of Curses and Smoke: A Novel of Pompeii. I met with them for "Dinner and Conversation with the Author" It. Was. Awesome.
The kids were all so bright, engaging, and motivated. Plus, they also got to chat with the fabulous Ash Parsons, author of Still Waters, who joined me in the fun. We both fielded lots of questions and–hopefully–inspired them to keep on writing.
As the night wound down, the students presented me with a beautiful scroll filled with their stories and poetry. Greatest. Gift. Evah.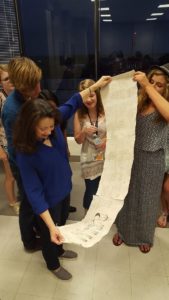 Just the weekend before, I was in Roanke, Virginia, to visit my good bud, Elizabeth O. Dulemba, who upped and moved to Scotland to get her MFA at the University of Edinburgh. Thankfully, she teaches at Hollins University during the summer and I got my "e" fix.
Roanoke was hot but so, so beautiful. The views were gorgeous and the company was great. Elizabeth set up a meet and greet with writers, illustrators, and professors who wanted to talk writing and publishing. More fascinating conversation!
The highlight was dinner out in the country at the home of creative dynamo, Nancy Dahlstrom, former head of the art department at Hollins. Artist prof. Ashley Wolff joined us (below, R; Nancy on left).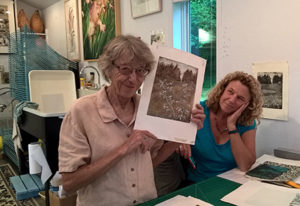 We enjoyed a gorgeous sunset and took a ride on Nancy's all-terrain vehicle, wherein we saw deer and took such a sharp turn at the sight of a rampaging skunk, we almost rounded a corner on two wheels. We tried catching lightning bugs but they were maddeningly elusive which puzzled me because I can catch them easily at home in Atlanta. What are they trying to tell us–that country bugs are smarter than city bugs? If I'd been able to catch one, I would've asked.
Aliya, Ashley and Elizabeth in the "Gator" car. Bottom: Elizabeth, Aliya and moi.
Good friends and lots of conversations about writing and books. Plus, lots of time with my girl before she goes to college in the fall equal a wonderful summer!