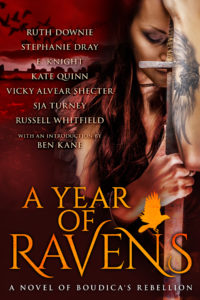 A Year of Ravens: a Novel of Boudica's Rebellion
When I was invited to be a part of the team writing a novel about Boudica and her rebellion against Rome, I was all, YES PLEASE! Because who doesn't love the tragic story of a warrior queen who's had enough of Roman brutality and expresses it via an epic rampage that almost destroys the indestructible? It's the whole David and Goliath thing (only if Goliath had ultimately won, but David had brought him to his knees first).
Boudica, if you're not familiar with this kick-a** queen, was the leader of the Celtic tribe of the Iceni during Rome's invasion of ancient Britain. After terrible provocation, she led her own people–as well as other Celtic tribes–in a massive rebellion that almost–almost–succeeded in pushing Rome off the island. Rome, of course (and as always) won, but came so close to utter defeat at the hands of the fiery red-haired queen, the story of her rebellion has stood out as a source of fascination since the moment of her mysterious death.
After our first collaborative novel, A Day of Fire: A Novel of Pompeii, it was an honor and a thrill to have the opportunity to work on this project. As before, the caliber of writers is so awe-inspiring, I kept secretly waiting for someone to tap me on the shoulder and whisper, "Pssst, there's been some mistake…." But amazingly, Ruth Downie, Stephanie Dray, Russell Whitfield, S.J.A. Turney, Kate Quinn and Eliza Knight didn't kick me off the team. Our characters weave in and out of each other's stories in such unique ways, we ended up with a much richer tapestry of characters and narratives than any of one of us could've created on our own.
The novel officially releases November 17, but please consider pre-ordering now:
Kindle US (Print version available for pre-order on November 4)
Kindle UK (Print version available for pre-order on November 4)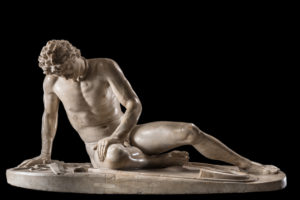 A Year of Ravens
Britannia: land of mist and magic clinging to the western edge of the Roman Empire. A red-haired queen named Boudica led her people in a desperate rebellion against the might of Rome, an epic struggle destined to consume heroes and cowards, young and old, Roman and Briton . . . and these are their stories.
A calculating queen foresees the fires of rebellion in a king's death.
A neglected slave girl seizes her own courage as Boudica calls for war.
An idealistic tribune finds manhood in a brutal baptism of blood and slaughter.
A death-haunted Druid challenges the gods themselves to ensure victory for his people.
A conflicted young warrior finds himself torn between loyalties to tribe and to Rome.
An old champion struggles for everlasting glory in the final battle against the legions.
A pair of fiery princesses fight to salvage the pieces of their mother's dream as the ravens circle.
A novel in seven parts, overlapping stories of warriors and peacemakers, queens and slaves, Romans and Britons who cross paths during Boudica's epic rebellion. But who will survive to see the dawn of a new Britannia, and who will fall to feed the ravens?