Seems a bit obvious, doesn't it? After all, Don't make up what you don't know is standard in academia. But that hasn't always been the case when it comes to conserving ancient artifacts, says Dr. Renée A. Stein, Director of Conservation and Chief Conservator at the Carlos Museum at Emory University.
At yesterday's "AntiquiTEA" presentation at the museum, she pointed out that many preservation techniques used in decades/centuries past often included a bit of…well, individual artistic "interpretation" to repairs. To make them look "nice" or presentable for viewing.
When Something Goes Missing
Dr. Stein made this comment in response to a question about one artifact, in particular, a bust with a missing nose. Would the team ever consider reconstructing the nose if they had a similar piece with the same face with an intact nose?
Nope, Dr. Stein said. Because they could never be sure, that was the "exact" nose they should duplicate.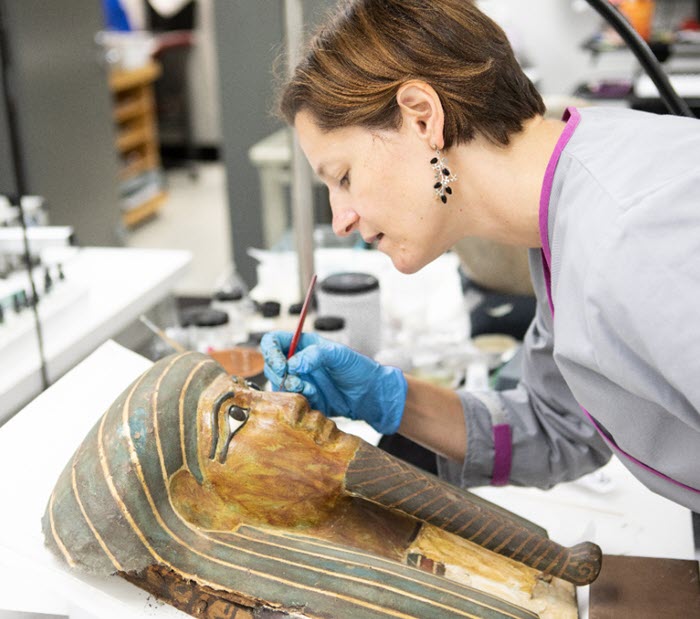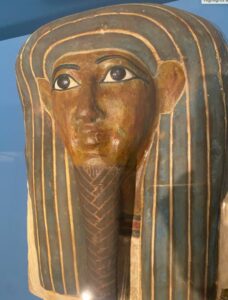 Egyptian Afterlife
It's always fascinating to get a look at the depth of consideration that comes into the art and science of conserving ancient artifacts. Dr. Stein led a roundtable with fellow conservators who worked on ancient Egyptian objects for Life and the Afterlife: Ancient EgyptianArt from the Senusret Collection, a special exhibit at the Carlos that will run through August 6, 2023.
The conservators used x-rays, UV, and infrared lights to study the chemical make up of the objects/paints and also performed "micro excavations" on each piece exhibited in the collection. If you haven't seen it yet, get thee to the Carlos Museum right away. It's a fascinating and fantastic look at how deeply ancient Egyptians loved life–and how much they wanted it to continue in the afterlife. If you are in Atlanta, send me a message, and we'll set up a time when I can tour you through the exhibit.