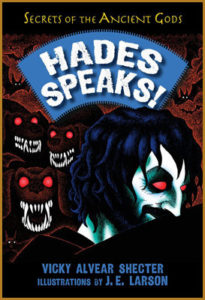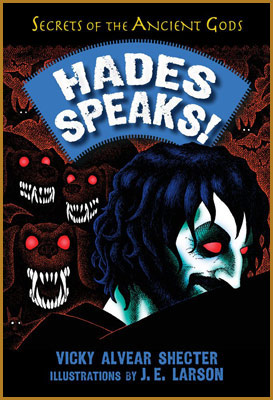 So thrilled and excited to learn that Hades Speaks: A Guide to the Underworld by the Greek God of the Dead made the the Young Adult Library Association's (YALSA) 2016 Quick Pick List for Reluctant Young Adult Readers in the nonfiction category.
The list honors books the committee thinks teens "will pick up on their own and read for pleasure; it is geared to the teenager who, for whatever reason, does not like to read." I could not think of a greater compliment!
J.E. Larson's dark and tingly illustrations of the dark god's abode go a long way toward attracting readers. His work is entrancing on so many levels!
Beyond the obvious, what is so validating about the honor is that the book is a compendium of real myths, rites, beliefs, and practices as they relate to death, dying, and the afterlife in the ancient Greek and Roman worlds. There are so many outstanding works of fiction based on these myths–including Rick Riordan's Percy Jackson series and Esther Eisner's Princesses of Myths series and others–that it is easy to forget that kids may not know the original stories upon which the reinventions rely.
By placing the original stories in historical context, my hope is that my nonfiction mythology books enhance the reading experiences of modern fantasy books. After all, from Harry Potter's "Fluffy" (Cerberus) and "He Who Must Not Be Named" (Hades was the original one) to all the demi-gods and gods in Riordan's books, knowing the original stories allows for greater admiration of how modern authors "riff" on them.
Besides which, they original stories are just so darn weird, dark, and kooky on their own. I find them endlessly fascinating and hope my love for the ancient world shines through in the retellings.
Hades, after an eternity of being largely ignored, is thrilled to push his blustery, deceitful little brother Zeus out of the spotlight for once. Thank you, YALSA!