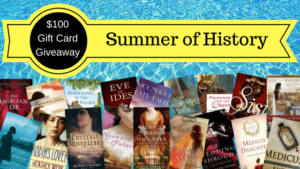 I've always said that reading historical fiction is like having your very own personal time machine. It's the greatest of escapes.
And summer is the best time to lose yourself in another world and time. A bunch of authors decided to make it easier for you to crank that time machine. You could win books and prizes from eighteen top authors of historical fiction today. Plus, you could win a $100 gift card to Amazon, Barnes & Noble, or iTunes–your choice.
I'm honored to be part of this group which includes some of my all-time favorite authors: Stephanie Dray, Kate Quinn, Ruth Downie, Stephanie Thornton, Sophie Perinot, Eliza Knight, Donna Russo Morin, and others. The height of summer is the perfect time to kick back, put your feet up, and enjoy the warm weather with a great book. Or two. Or three.
Enter here. What are ya waiting for?