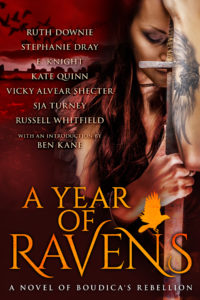 Boudica, the ancient British queen who led a rebellion that almost stopped Rome in its tracks, lives in the pages of A Year of Ravens as seen through the eyes of her daughters, her warriors, her enemies and her priests. I am so excited and honored to be a part of this fascinating project, along with authors Ruth Downie, Stephanie Dray, Eliza Knight, Kate Quinn, SJA Turney, and Russell Whitfield.. And, in keeping with tradition, we are offering a giveaway of jewelry to celebrate the project.
Celtic Fire is inspired by the beauty of ancient Celtic designs, made of silver tone metal and red Swarovski crystal beads. The set includes a necklace, earrings and bracelet. Just in time for the holidays! Imagine how cool it would be to give this set–along with the book–to a Celtic history fan. Enter to win the set here!
We hope you enjoy the complex, fascinating, and sometimes shocking viewpoints in this collaboration novel!
Order the book via Amazon US, Amazon UK, iTunes, Barnes and Noble, or Kobo