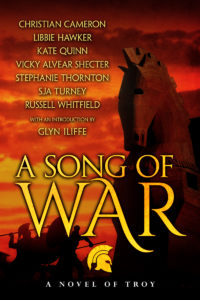 I am so proud to announce that A SONG OF WAR: A NOVEL OF TROY is out today. This is the third collaborative novel I've participated in and I couldn't be more thrilled about it.
What is a collaborative novel? I like to describe it as a creative exercise where professional authors join together to intertwine multiple stories around a single subject. Think of Penelope at her loom, only imagine seven weavers working on one piece of fabric. Authors who share a passion write individual stories that are interconnected at every level to create a weave of extraordinary complexity and depth.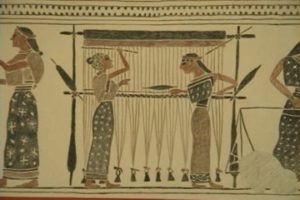 Before any of us start writing, we plan our "weave" so that no threads get tangled or mindlessly repeated. That's why the novel begins in Sparta, before Helen launches a thousand ships, and ends with Aeneas leaving his burning golden city behind with a heavy heart. Along the way, we live among Cassandra and her brother Helenus, Agamemnon, Briseis, the Amazon Penthesilea, Achilles, Philoctetes and many other iconic figures.
My individual thread is Odysseus' story before he comes up with his solution to getting the Greek army into Troy. Odysseus wasn't my first choice to write but as the group discussed how to break down the characters and the timing, I somehow ended up with the trickster.
Trying to give a fresh perspective to such a familiar and beloved character was a challenge but I was inspired by the talent of the other authors on this team who blew me away with their creative characterizations of heroes we only "thought" we knew. I couldn't be prouder to be on the same team with Kate Quinn, Stephanie Thornton, Russell Whitfield, Christian Cameron, Libbie Hawker and SJA Turney.
Order A SONG OF WAR today on Amazon, Amazon UK, Barnes & Noble, Kobo, or iTunes. Thanks for the support, friends!
Also check out the H-Team's other collaborative novels about Pompeii and the British warrior queen, Boudica.