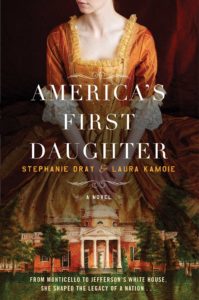 Isn't it amazing?! I'm proud to be part of the cover reveal for Stephanie Dray's new novel, America's First Daughter, the story of Jefferson's eldest daughter, Patsy. It releases in March. I can't wait to read this one!
Also, get this. Just as the two authors–Stephanie and Laura Kamoie (aka Laura Kay)–were about to release the galleys for printing, the Robert H. Smith International Center for Jefferson Studies released a whole new cache of letters from Patsy, revealing information that changed a few things in the novel. So they stopped the presses to include that information. How cool is that? I love it when brilliant authors take the time to be authentically brilliant!
About the Book:
In a compelling, richly researched novel that draws from thousands of letters and
original sources, bestselling authors Stephanie Dray and Laura Kamoie, tell the
fascinating, untold story of Thomas Jefferson's eldest daughter, Martha "Patsy"
Jefferson Randolph—a woman who kept the secrets of our most enigmatic founding
father and shaped an American legacy.
From her earliest days, Martha "Patsy" Jefferson knows that though her father loves his family
dearly, his devotion to his country runs deeper still. As Thomas Jefferson's oldest daughter, she
becomes his helpmate in the wake of her mother's death, traveling with him when he becomes
American minister to France. And it is in Paris, at the glittering court and among the first
tumultuous days of revolution, that she learns of her father's liaison with Sally Hemings, a slave
girl her own age.
Patsy too has fallen in love—with her father's protégé, William Short, a staunch abolitionist
intent on a career in Europe. Heartbroken at having to decide between being William's wife or a
devoted daughter, she returns to Virginia with her father and marries a man of his choosing,
raising eleven children of her own.
Yet as family secrets come to light during her father's presidency, Patsy must again decide how
much she will sacrifice to protect his reputation, in the process defining not just Jefferson's
political legacy, but that of the nation he founded.
I will always have a soft spot for Stephanie because she and I share a bond in our mutual love for Cleopatra Selene. We met when she was about to release her book on Selene, Lily of the Nile (the first in a trilogy about Cleopatra's daughter) around the time my book, Cleopatra's Moon, was also preparing for release. Since then, we've worked on two novel collaborations, A Day of Fire: A Novel of Pompeii and the current work-in-progress, A Year of Ravens: A Novel of Boudica's Rebellion (releases this November). And here's what I can tell you about this amazing author: besides being one of the warmest, loveliest humans around, she is fiercely intelligent, deeply committed to research, and a terrific, terrific writer. I am seriously looking forward to this novel.
Enter to Win One of Ten Advanced E-Galleys of America's First Daughter!
Go forth and enter! https://www.rafflecopter.com/rafl/share-code/NTIxYWM0YzhjYmFkNDc1MDkxYzA3ZDNmMjhhM2RjOjc2NQ%3D%3D/
Also, support your local independent bookstore by pre-ordering today. You can also pre-order at Amazon, B&N, iTunes, and Kobo.