ALEXANDER THE GREAT
Rocks The World

Alexander wasn't your typical teenager. When he was sixteen, his father left town on business for a month and put him in charge-not of the house, of the whole country.
By eighteen, he was a general.
By twenty, he ruled all of ancient Greece.
By twenty-five, he had conquered ancient Persia.
By thirty-two, he was king of the world.
So what went wrong?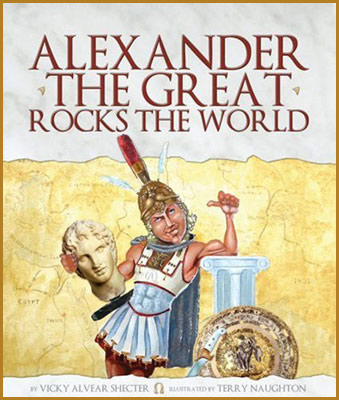 Midwest Book Review: "Written especially for adolescents and teenagers, Alexander The Great Rocks The World chronicles the events of Alexander's life, his military conquests, his ideals of unity, his battle tactics, and much more in detailed yet plain-spoken vernacular language. Black-and-white representations of classic artworks and illustrations add a visual touch to this fascinating, easy-to-follow accounting of how Alexander the Great literally changed world history. Of special interest are the concluding sections that compare Alexander's heroic and villainous legacies – he spread the Greek ideal (if not practice) of democracy, was committed to tolerance, and respected women more than most of his age; but then, he also crushed the practice of democracy in Greece and instigated bloodshed in the form of war and conquest. Enthusiastically recommended especially for grade school and YA library collections." 

---