I marched my way into the Michael C. Carlos Museum at Emory University yesterday. I was pumped up to tour high school Latin students through our Greek and Roman galleries, only to learn that the tour was cancelled. And I'd even put on my new earrings from Plato's Fire for the occasion!
My lil phone photo does not capture the shiny awesomeness of these amphorae. And no, they are not heavy. If you love all things ancient Greek, check them out (nope, not sponsored, just a fan). Personally, I'm lusting for the octopus earrings next.
Anyway, since I was already at the museum, I decided to spend a little more time with the Life and Afterlife: Ancient Egyptian Art from the Senusret Collection exhibit, which runs through August 6th. If you haven't seen it yet, I highly recommend it. And if you would like a tour, contact me, and we'll set something up.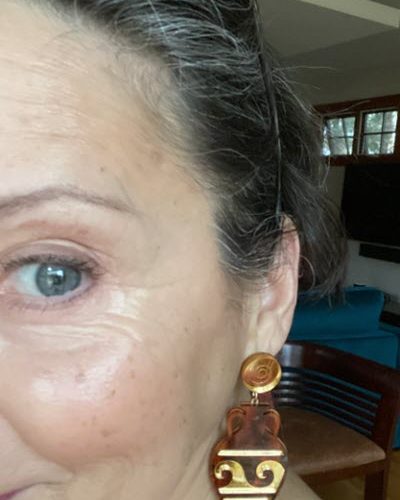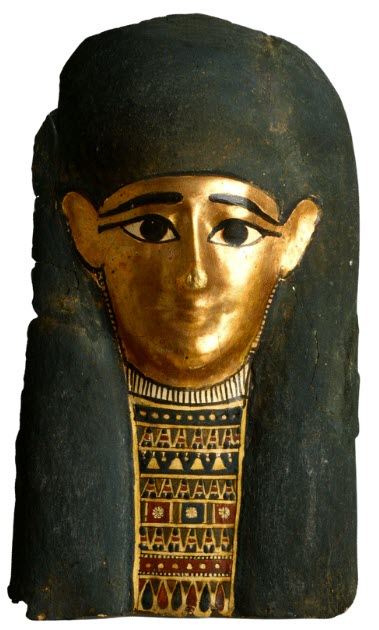 Nefertiti's Sarcophagus
There are many breathtaking pieces to check out, including this beautiful gilded funerary mask on the right from the 26th Dynasty, the last native-ruled dynasty in Egypt. After this dynasty, it was one invasion after another–by the Persians, then Alexander the Great and the Greeks, and finally the Romans with emperor Augustus.
But nearly one thousand years before this mask was even imagined, Queen Nefertiti ruled alongside her husband, the heretic king, Akhenaten, in the 18th Dynasty. And this beautiful piece of red granite (below) has been identified as a remnant of a sarcophagus of the long-necked, powerful queen.
How cool is that? There is a great little video beside this fragment explaining how it was identified.
Dr. Melinda Hartwig, curator of the collection and of the Egyptian, Nubian and Near Eastern galleries of the Museum, does a great job explaining what makes it unique, namely the fact that this is the first example of a god's name (Aten) shown encapsulated in a cartouche. Normally, this was reserved for pharaohs. One can only wonder at what Akhenaten and Nefertiti were up to with that bit of power-theater. Dr. Hartwig also tells us that this piece is being returned to Egypt after this exhibition, so this may be your last chance to stand before something the queen herself may have commissioned.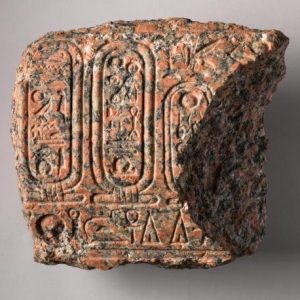 Hold My Eyeliner
I always love those moments when you see something and can completely relate to it on a personal level.
I got this sense when I stood before the case, holding what looked to me like a bleached-out tube of mascara. Sure enough, it is an eyeliner applicator. Deep inside the well of that small holder of black kohl are likely the dried out remnants of the lead-based paint the ancient Egyptians used to adorn their eyes. The duck or goose fat they would have used to make it spreadable is likely long gone. There's a very good chance this object was owned by a man, as both men and women wore makeup in ancient Egypt.
Pharaohs, royal wives, priests, scribes, and nobles alike would never be caught dead in public without their eyes decorated with khol.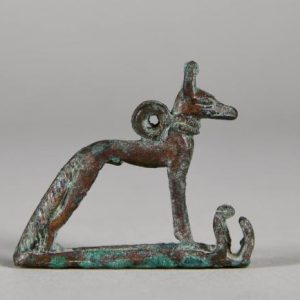 Wolf City
Finally, I fell in love with a small amulet of a wolf. Associated with the god Wepwawet, this deity was called the "Opener of the Ways." He is often depicted as a wolf standing on a prow of a solar boat, presumably growling at any real or imagined enemies of Ra. Some scholars believe his body language suggests that he is acting as a scout to help pave the way for Egyptian warriors.
His cult center was in the city of Asyut in Upper Egypt, which the Greeks later dubbed Lycopolis, or "Wolf City."
Elegantly beautiful, isn't it?
Don't miss this wonderful exhibit! Remember, you can visit for free by checking out the family pass from your local public library.