At least once during August, you're likely to hear, "On this day/month in history, Vesuvius erupted and destroyed the ancient Roman city of Pompeii."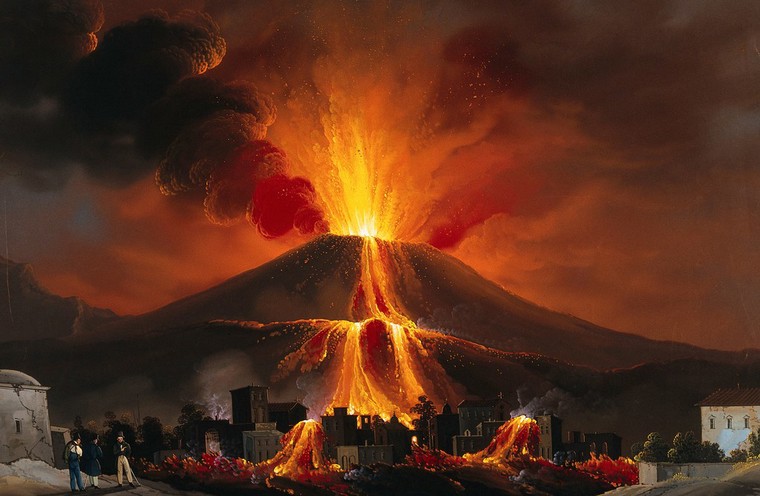 Um, not exactly. According to many scholars, Vesuvius erupted much later in the fall.
Still, most Latin and history textbooks continue to print (and reprint) August 24th as the unquestioned date of eruption. Why?
As most things historical, it's complicated.
We got the August 24 date of eruption from the earliest translation of Pliny the Younger's letters—an eyewitness account of the disaster. Some believe, however, that the medieval monk who originally translated the text made an error that just kept getting copied over and over again for centuries until it became "fact."
There is convincing physical evidence that the eruption took place in the fall—some say September or October and possibly even November. This evidence includes the presence of autumnal fruits including pomegranates and crabapples, (both of which ripen in late September and October in Italy) as well as dried dates, prunes, and figs.
The most compelling evidence, however, is the presence of a Roman coin printed after September 7 or 8 of the year 79 CE found in the correct stratification. In other words, looters or investigators could not have dropped it after the event. The eruption must have occurred—at the very least—after the minting and widespread distribution of that coin.
While in Pompeii doing research for my young adult novel set in the doomed city (Curses and Smoke), I interviewed Italian archaeologist Mario Grimaldi about this issue. He agreed that it likely took place sometime after August. "Most archaeologists working on the site believe it took place in the fall," he said. "The evidence is too strong."
"So why hasn't that knowledge trickled down to the rest of us?" I wondered.
In response, professor Grimaldi gave the classically-adorable Italian shrug that meant, "Who knows?" And possibly, "Who cares?" Italian archaeologists are too busy desperately trying to preserve the crumbling city in the face of lack of funds to care much about what American textbooks say about anything.
Also, we Americans like to deal with absolutes. It's much easier to keep publishing that August 24th date than it is to explain that there is some controversy involved. Things are further complicated by the fact that some archaeologists do believe the eruption took place on August 24 and point to fish-gut evidence found in garum sauce (a popular Roman condiment) as proof since they've identified remains of fish usually found in late August. From my point of view, though, we know that it took a couple of months to ferment the sauce so finding evidence of fish usually seen in late August doesn't disprove a later date.
In the face of quibbling scholars, textbook publishers likely decided to continue printing that August 24 date as the day Vesuvius destroyed Pompeii. And they will continue publishing it as "fact" until there is academic consensus on a new date. Silly publishers. Don't they know that will never happen?
The day all archaeologists and academics agree on the interpretation of any one fact is the day you will hear in the news, "Today, on this day in history, hell froze over."