Meet Sisyphish, named after that ancient Greek rock star, Sisyphus. Pretty boy lived two years (which is about standard, I've learned. Don't judge.) Sadly, he recently went belly up. Which meant it was time for another Roman funeral. (You can see the first one, here.)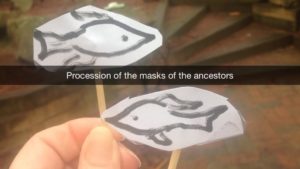 Unlike our first ancient Roman fish funeral for Aeneas (may he rest in peace), this time, we had a procession of the masks of the ancestors, which was a Roman funerary practice.. We did not hire, however, professional mourners to pull their hair, rend their clothes, or wail their grief. Because, well, he was a fish. Geez.
Then came the pouring of the libation near the pyre.  (We poured Coke, okay? Do you know how much wine costs these days? We saved the wine for the feast. And, no, fish sticks were not on the menu.)
And the ceremonial burning of the body.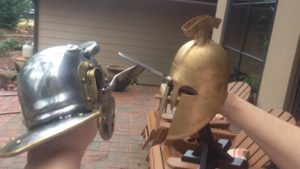 Finally, we ended the rites with a gladiatorial combat in which yours truly ruthlessly celebrated yet another kill. The shades of the dead must be honored with blood!
HONORAMUS SISYPHISH!