A little scene from The Iliad recently came to my attention and it totally cracked me up.  Of course, I had to share it here.
So in Book 14, the war between the Greeks and the Trojans is in full swing. Hera wants to create an advantage for the Greeks but she doesn't want her hubby Zeus to know her plans, so she comes up with a distraction. And it involves the bedroom.
She goes to Aphrodite and says, "Gurrrrlll, I've been married to that old goat forever, so I'mma need a little somethin'-somethin' to put a lil' spark in his lightning rod, you know what I mean?" (Okay, that's not how she said, but the essence is about right.)
The Goddess of Love says, yeah you definitely need to get lucky, and spritzes Hera with her proprietary "Super Sexzy Love Goddess" spray. Hera gets all dolled up, dabs herself with ambrosia in all the right places and sets off determined to start an electrical storm.
The god of the sky takes one look at her and is all in.  Never, he says to her, have I been soooo turned on by any goddess or mortal as I am with you in this very  moment.
He should've stopped there. (Seriously, Zeus. STOP. THERE.) But the impulsive god continued:
Girl, not even when I was in love with Ixion's wife,
or with Danae of the pretty ankles, or was in lust with Europa,
or queen Ceres, or was super hot for Semele, or Alcmena,
and was all twisted up over Leto, was I as
turned on as I am with you right now. 
I imagine Hera pausing and blinking a couple of times as she takes in what he just said. In fact, I picture her reacting like this–again, on the inside.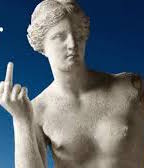 Pro-tip gentlemen: do not–I repeat–do not compliment your wife by listing in chronological order all the women that you've shtupped on the side. Amazingly, Hera, Queen of the Temper Tantrums, says nothing. She's got her eye on a bigger prize (helping the Greeks win), presumably, so she doesn't explode into the kind of heifer-level rage she's known for.
It's a small scene but it's so darned ridiculous! Really, Zeus? For a guy that can't keep it in your loin cloth, you don't know much about women, do you?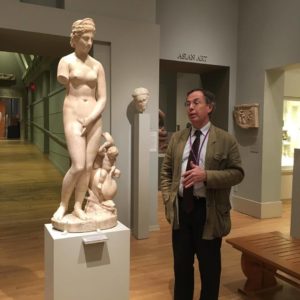 Jasper Gaunt, curator of the Greek and Roman galleries at the Carlos Museum at Emory University shared this little story during an intimate gallery talk with a handful of us docents recently. He pointed out that The Iliad was written for men, which was why it seemed reasonable that Zeus decides in that particular moment to brag about his conquests.
To his wife. Right before they get busy.
With the personalities involved, it's a wonder that Zeus emerged from that encounter still in possession of his beloved lightning rod.
Thanks, Dr. Gaunt, for that wonderful reminder of why I love these crazy, timeless stories.