Imagine six different historical fiction writers getting together and deciding to "play" with story-telling. What if we all focused on a single famous event? What if characters from each others' stories wove in and out of everyone's tales? What if we each took a period before, during and after an explosive event, but kept them connected to the very end? What if we inspired each other and HAD FUN?
A Day of Fire: A Novel of Pompeii is the result. And I am proud to show you the cover of this amazing project!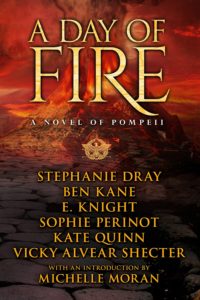 Ta da! Do you believe this amazing line-up?  Stephanie Dray, Ben Kane, E. Knight, Sophie Perinot,  Kate Quinn and moi.  Plus an introduction by the incomparable, Michelle Moran! How I ended up playing with these masters of the craft, I do not know, but I am extremely grateful to have been a part of it.
I should mention, of course, that this book is not for my typical audience–teens–but for adult readers (you can guess why).
The official release date is November 4, 2014, but you can get a jump on it by pre-ordering now. If, like me, you prefer a book in hand, rest assured–you will be able to order a paper copy of it as well.
Here's the official book description:
Pompeii was a lively resort flourishing in the shadow of Mount Vesuvius at the height of the Roman Empire. When Vesuvius erupted in an explosion of flame and ash, the entire town would be destroyed. Some of its citizens died in the chaos, some escaped the mountain's wrath . . . and these are their stories: 

A boy loses his innocence in Pompeii's flourishing streets. 
An heiress dreads her wedding day, not knowing it will be swallowed by fire. 
An ex-legionary stakes his entire future on a gladiator bout destined never to be finished. 
A crippled senator welcomes death, until a tomboy on horseback comes to his rescue. 
A young mother faces an impossible choice for her unborn child as the ash falls. 
A priestess and a whore seek redemption and resurrection as the town is buried. 

Six authors bring to life overlapping stories of patricians and slaves, warriors and politicians, villains and heroes who cross each others' path during Pompeii's fiery end. But who will escape, and who will be buried for eternity?