In celebration of the upcoming release of a novel in six parts–A Day of Fire: A Novel of Pompeii—we are giving away a necklace and earring set inspired by ancient Roman jewelry (enter the giveaway here). The novel was the brainchild of Stephanie Dray and Kate Quinn ad I feel very fortunate to be among such stellar historical fiction writers, including Ben Kane, Sophie Perinot, and Eliza Knight.
Plus, an introduction by Michelle Moran? It's like I died and went to writerly heaven.
Anyway, the artist behind the beautiful necklace set is my own talented mother, Marilyn Strousberg. She originally made it for me to giveaway with my YA novel set in Pompeii–Curses and Smoke–which released in May from Arthur A. Levine/Scholastic. But for various reasons I never held the giveaway (it had nothing at all to do with the fact I loved it and wanted to keep it for myself…I SWEAR!).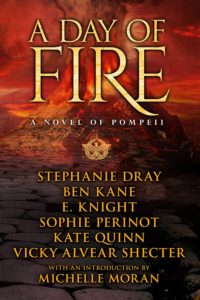 And then this great project emerged and I realized hoarding was not an attractive trait. Plus, the set so perfectly matches the book cover, right? I mean, can you imagine ordering the paperback (which you can do after November 4th), draping this set around it and offering it as a present to someone special? Total win.
The beads in the set are all carnelian, an extremely popular semi-precious gemstone in the ancient world. I asked my Mom what inspired her to make this particular design and she sent me the photo below. Whoa, right?!
The inner necklace is Egyptian red jasper but the outer one is Roman. It is dated somewhere between the first and third centuries. Since our stories take place in 79 CE, someone could've absolutely been wearing this during a dramatic escape from Pompeii.
The photo came from an auction house in 2009. At the time, the set sold for almost $5,000 (US).
My mother is truly a talented artisan–check out here what she made when the paperback for my first novel, Cleopatra's Moon, released.
Amazingly, she does not have an Etsy site or even a website, something I'm constantly haranguing her about. Sell the goods, Mom! They're gorgeous! Until she does, at least you can enter the giveaway, which ends December 5th.
a Rafflecopter giveaway